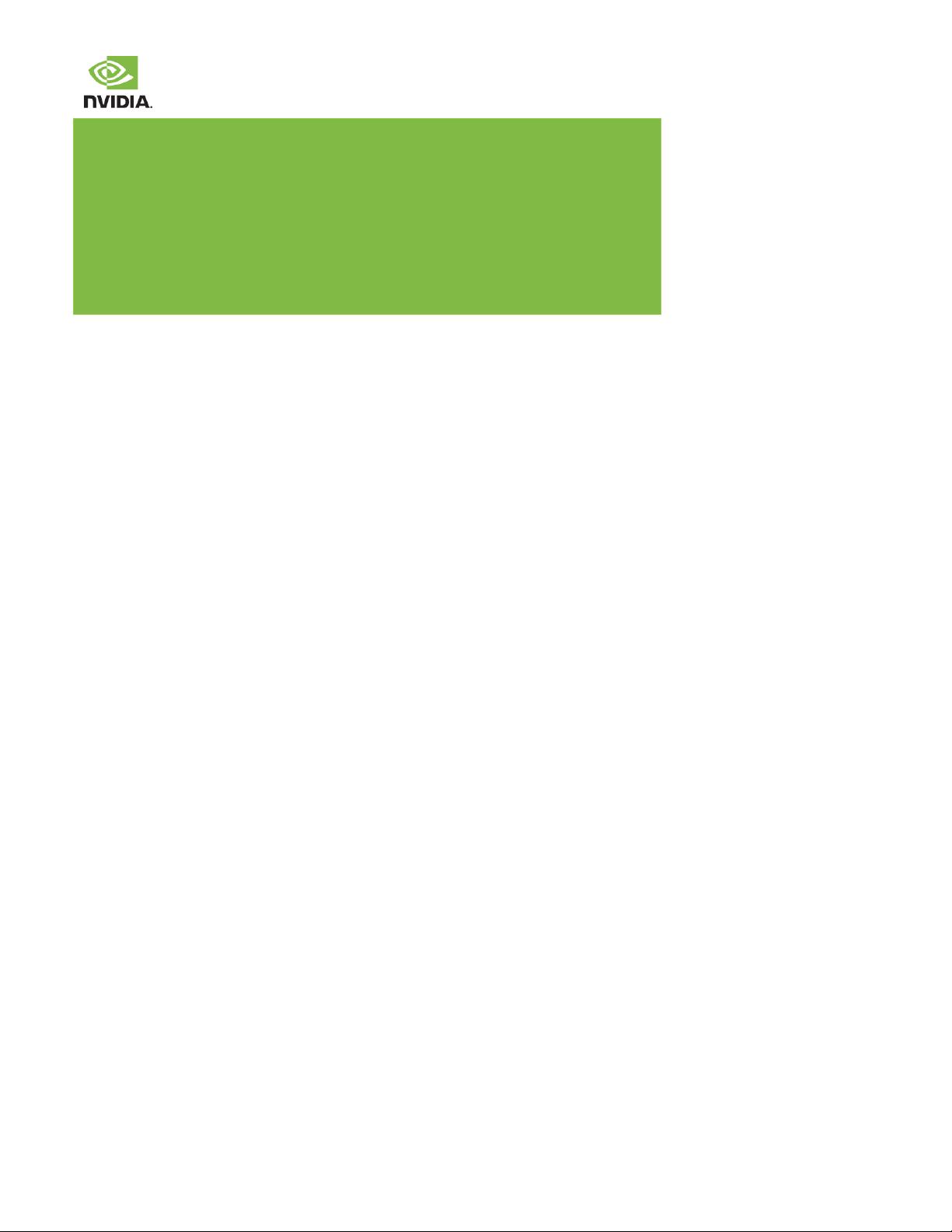 JETSON | TX2/TX2i | DATASHEET | 1.0
|
SUBJECT TO CHANGE
|
COPYRIGHT © 2014
–
201
8 NVIDIA CORPORATION. ALL RIGHTS RESERVED.
1
DATA SHEET
NVIDIA Jetson TX2
/ TX2i System-

on

-Module
Pascal GPU + ARMv8 + 8GB LPDDR4 + 32GB eMMC
NVIDIA Jetson Modules: TX2, TX2i
References to T
X2
include (can be read as) TX2i except where explicitly noted.
Description
The NVIDIA
®
Jetson TX2 series System-
on
-Module (SOM) redefines possibility; a combination of performance, power
efficiency, integrated deep learning capabilities
and
rich I/O remove the barriers to a new generation of products. The Jetson
TX2 is ideal for many applications including (but not limited to): Intelligent Video Analytics (IVA), Drones, Robotics, Gaming
Devices, Virtual Reality (VR), Augmented Reality (AR) and Portable Medical Devices. Superior performance, robust design
and reduced complexity in system integration results in more advanced products getting to market faster.
T
he
Jetson TX2 series module integrates:
▪
256 core NVIDIA Pascal GPU

. Fully supports all modern graphics APIs, unified shaders and is GPU compute capable. The GPU
supports all the same features as discrete NVIDIA GPUs, including extensive compute APIs and libraries including CUDA. Highly
power optimized for best performance in embedded use cases.
▪
ARMv8 (64-bit) Multi-Processor CPU Complex

. Two CPU clusters connected by a high-performance coherent interconnect fabric
designed by NVIDIA; enables simultaneous operation of both CPU clusters for a true heterogeneous multi-processing (HMP)
environment. The
Denver 2 (Dual-Core) CPU clusters is optimized for higher single-thread performance; the ARM

Cortex-A57
MPCore (Quad-Core)
CPU clusters is better suited for multi-threaded applications and lighter loads.
▪
Advanced HD Video Encoder

. Recording of 4K ultra-high-definition video at 60fps. Supports H.265 and H.264 BP/MP/HP/MVC,
VP9 and VP8 encoding.
▪
Advanced HD Video Decoder

. Playback of 4K ultra-high-definition video at 60fps with up to 12-bit pixels. Supports H.265, H.264,
VP9, VP8 VC-1, MPEG-2, and MPEG-4 video standards.
▪
Display Controller Subsystem

. Two multi-mode (eDP/DP/HDMI) outputs and up to 8-lanes of MIPI-DSI output. Multiple line pixel
storage allows more memory-efficient scaling operations and pixel fetching. Hardware display surface rotation is also provided for
bandwidth reduction in mobile applications.
▪
128-bit Memory Controller.128-bit DRAM interface providing high bandwidth LPDDR4 and ECC (TX2i only)

support.
▪
8GB LPDDR4 and 32 GB eMMC memory

integrated on the module
▪
1.4Gpix/s Advanced image signal processing

: Hardware accelerated still-image and video capture path, with advanced ISP.
▪
Audio Processing Engine

. Audio subsystem enables full hardware support for multi-channel audio over multiple interfaces.
我的内容管理

收起

我的资源

快来上传第一个资源

我的收益

我的积分

登录查看自己的积分

我的C币

登录后查看C币余额

我的收藏

我的下载

下载帮助

前往需求广场,查看用户热搜
资源上传下载、课程学习等过程中有任何疑问或建议,欢迎提出宝贵意见哦~我们会及时处理!
点击此处反馈