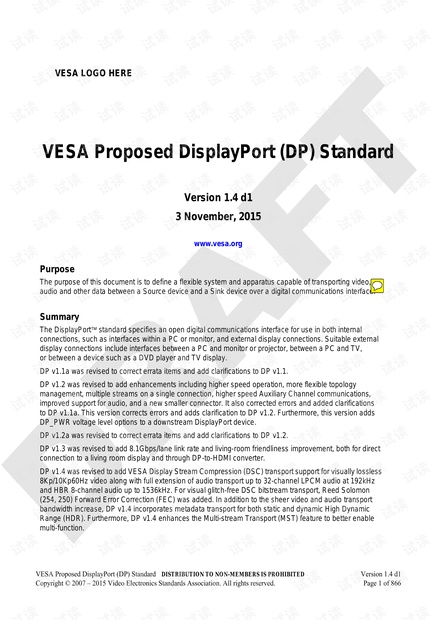 。DisplayPort1.4将支持 8K 分辨率的信号传输,兼容 USB Type-C 接口。从本次更新的技术参数可以看到,这次的eDP 1.4a接口在显示适配器及显示器之间提供4条HBR3高速通道,单通道带宽达到了8.1Gbps,这些通道可独立运行,也可以成对使用,4通道理论带宽达到了32.4Gbps,足以支持10位色彩的4K 120Hz输出,也可以支持8K 60Hz输出。
VESA Proposed DisplayPort (DP) Standard
DISTRIBUTION TO NON-MEMBERS IS PROHIBITED
Version

1.4 d1
Copyright © 2007 – 2015 Video Electronics Standards Association. All rights reserved.
Page 1 of 866
VESA Proposed DisplayP
ort (DP) Standard
3 November, 2015
www.vesa.org
Purpose
The purpose of this document is to define a flexible system and apparatus capable of transporting video,
audio and other data between a Source device and a Sink device over a digital communications interface.
Summary
The DisplayPort

standard specifies an open digital communications interface for use in both internal
connections, such as interfaces within a PC or monitor, and external display connections. Suitable external
display connections include interfaces between a PC and monitor or projector, between a PC and TV,
or
between a device such as a DVD player and TV display.
DP
v1.1a
was revised to correct errata items and add clarifications to
DP

v1.1

.
DP
v1.2
was revised to add enhancements including higher speed operation, more flexible topology
management, multiple streams on a single connection, higher speed Auxiliary Channel communications,
improved support for audio, and a new smaller connector. It also corrected errors and added clarifications
to
DP

v1.1a
. This version corrects errors and adds clarification to
DP

v1.2
. Furthermore, this version adds
DP_PWR voltage level options to a downstream DisplayPort device.
DP
v1.2a
was revised to correct errata items and add clarifications to DP v1.2.
DP
v1.3
was revised to add 8.1Gbps/lane link rate and living-room friendliness improvement, both for direct
connection to a living room display and through DP-to-HDMI converter.
DP
v1.4
was revised to add VESA Display Stream Compression (DSC) transport support for visually lossless
8Kp/10Kp60Hz video along with full extension of audio transport up to 32-channel LPCM audio at 192kHz
and HBR 8-channel audio up to 1536kHz. For visual glitch-free DSC bitstream transport, Reed Solomon
(254, 250) Forward Error Correction (FEC) was added. In addition to the sheer video and audio transport
bandwidth increase,
DP

v1.4
incorporates metadata transport for both static and dynamic High Dynamic
Range (HDR). Furthermore,
DP

v1.4
enhances the Multi-stream Transport (MST) feature to better enable
multi-function.
我的内容管理

展开

前往需求广场,查看用户热搜
资源上传下载、课程学习等过程中有任何疑问或建议,欢迎提出宝贵意见哦~我们会及时处理!
点击此处反馈