FPGA_Zynq UltraScale+ MPSoC 数据手册:概述_(Xilinx).pdf
需积分: 41
24 下载量
104 浏览量
2021-11-27

15:23:44

上传
评论
收藏
1.09MB
PDF
举报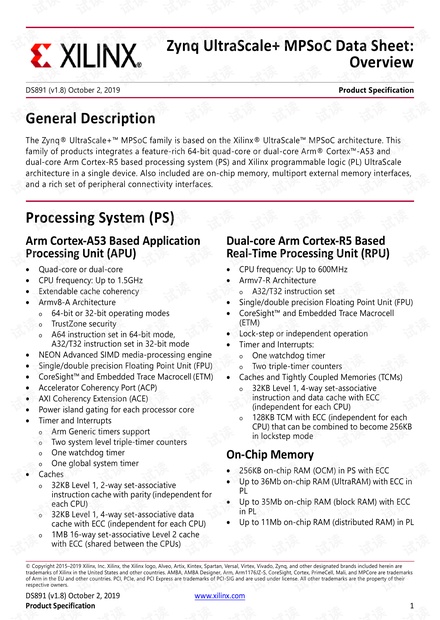 FPGA_Zynq UltraScale+ MPSoC 数据手册:概述_(Xilinx).pdf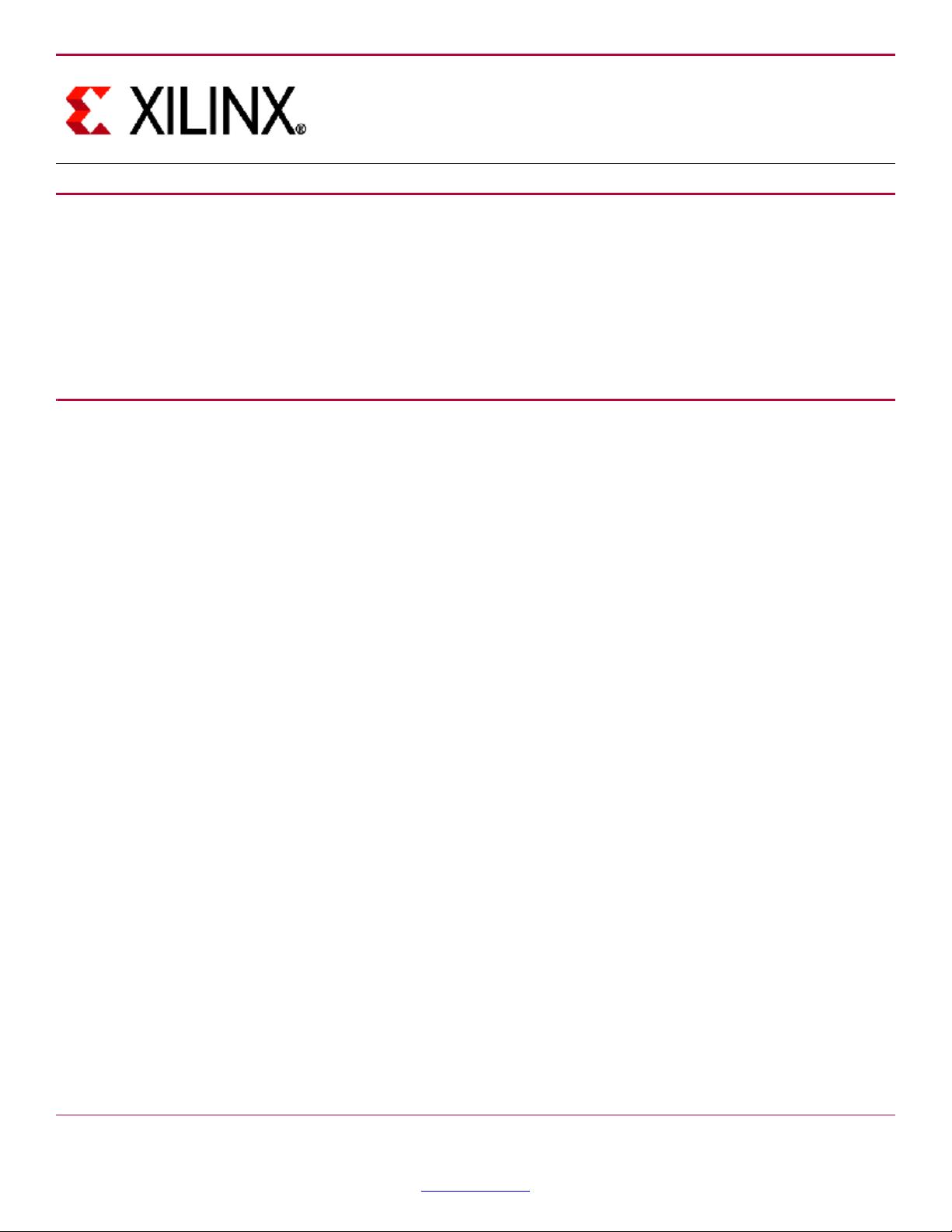 DS891 (v1.8) October 2, 2019
www.xilinx.com
© Copyright 2015–2019 Xilinx, Inc.
Xilinx, the Xilinx logo, Alveo, Artix, Kintex, Spartan, Versal, Virtex, Vivado, Zynq, and o

ther designated brands included herein are
trademarks of Xilinx in the Unit
ed States and other countries. AMBA, AMBA Designer, Arm, Arm1176JZ-S, CoreSight, Cortex, Prime

Cell, Mali, and MPCore are trademarks
of Arm in the EU and other count
ries. PCI, PCIe, and PCI

Express are trademarks of PCI-SIG and are used under license. All othe

r trademarks are the property of their
respective owners.
General Description
The Zynq® UltraScale+™ MPSoC family is based on the Xilinx® UltraScale™ MPSoC architecture. This
family of products integrates a feature-rich 64-bit quad-core o
r dual-core Arm® Cortex™-A53 and
dual-core Arm Cortex-R5 based pr
ocessing system (PS) and Xilinx programmable logic (PL) UltraScale
architecture in a single device.
Also included are on-chip memo

ry, multiport external memory interfaces,
and a rich set of peripheral connectivity interfaces.
Processing System (PS)
Arm Cortex-A53 Based Application
Processing Unit (APU)
•
CPU frequency: Up to 1.5GHz
•
Extendable cache coherency
o
64-bit or 32-bit

operating modes
o
A64 instruction set in 64-bit mode,
A32/T32 instruction set in 32-bit mode
•
NEON Advanced SIMD media-processing engine
•
Single/double precision Floating Point Unit (FPU)
•
CoreSight™

and

Embedded

Trace

Macrocell

(ETM)
•
Accelerator Coherency Port (ACP)
•
AXI Coherency Extension (ACE)
•
Power island gating for each processor core
o
Arm Generic timers support
o
Two system level triple-timer counters
o
One global system timer
o
32KB Level

1, 2-way set-associative
instruction cache with
parity (independent for
each CPU)
o
32KB Level

1, 4-way set-associative data
cache with ECC (indepe
ndent for each CPU)
o
1MB 16-way set-associative Level

2 cache
with ECC (shared b
etween the CPUs)
Dual-core Arm Cortex-R5 Based
Real-Time Processing Unit (RPU)
•
CPU frequency: Up to 600MHz
o
A32/T32 instruction set
•
Single/double precision Fl

oating Point Unit (FPU)
•
CoreSight™ and Embedded Trace Macrocell
(ETM)
•
Lock-step or independent operation
o
Two triple-timer counters
•
Caches and Tightly Coupled Memories (TCMs)
o
32KB Level

1, 4-way set-associative
instruction and data cache with ECC
(independent for each CPU)
o
128KB TCM with ECC (independent for each
CPU) that can be combined to become 256KB
in lockstep mode
On-Chip Memory
•
256KB on-chip RAM (OCM) in PS with ECC
•
Up to 36Mb on-chip RAM (UltraRAM) with ECC in
PL
•
Up to 35Mb on-chip RAM (block RAM) with ECC
in PL
•
Up to 11Mb on-chip RAM (distributed RAM) in PL
Zynq UltraScale+ MPSoC Data Sheet:
Overview
DS891 (v1.8) October 2, 2019
Product Specification
我的内容管理

展开

前往需求广场,查看用户热搜
资源上传下载、课程学习等过程中有任何疑问或建议,欢迎提出宝贵意见哦~我们会及时处理!
点击此处反馈