SKY58081-11 datasheet
需积分: 6
19 浏览量
2022-11-30

14:57:32

上传
评论
收藏
4.05MB
PDF
举报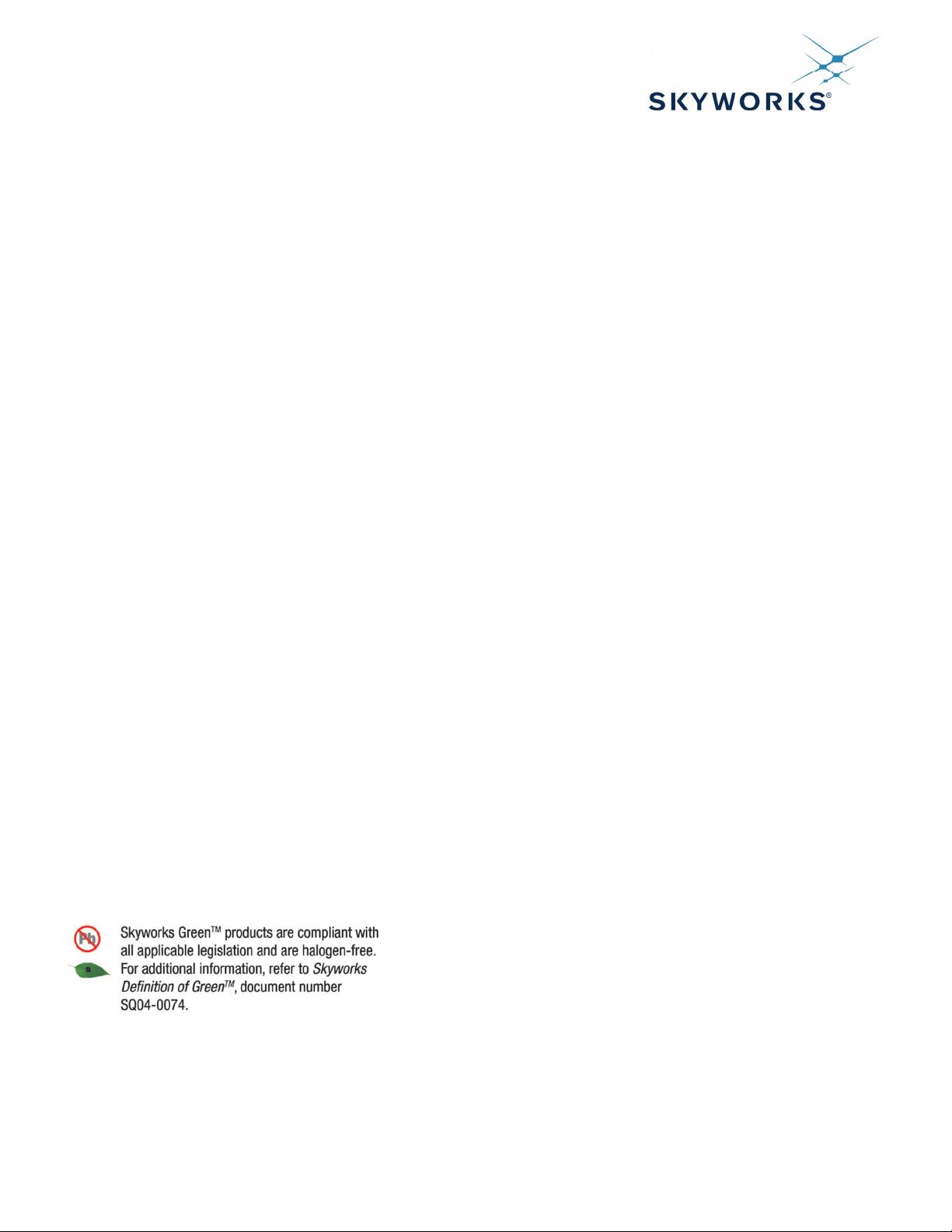 Skyworks Solutions, Inc. • Phone
[781] 376-3000 • Fax [781] 376-3100 • sales@sk

yworksinc.com • www.skyworksinc.com
205568B • Skyworks Proprietary Information • Products and
Product Information are Subject to Change Without Notice • July 27, 2020

1
PRELIMINARY DATA SHEET
SKY58081-11 Sky5
®
Low Band Tx-Rx Front-End Module for
3G/4G/5G Applications with Low Band / High Band 2G
Applications
•
Multi-band 2G 3G/4G/5G Mobile Devices
•
Handsets, Data Cards, M2M
•
LTE Advanced Carrier Aggregation (CA)
Features
®
RFFE 3.0 control interface w/ 1.8 V nominal supply
•
Integrated switched duplexer filters for Bands 8, 12, 20 and 26
•
Integrated Low Noise Amplifiers (LNA)
•
Four auxiliary 3G/4G/5G Tx outputs for external filters
•
Four auxiliary 3G/4G/5G TRx ports to support additional bands
•
Tx filtering for harmonically-related LB-MB downlink CA
•
Integrated low band and high band 2G PAs
•
High band 2G works with companion MB/HB modules
•
Integrated bi-directional RF coupler with cascade support
•
Small, low profile package:
-
7.6 mm x 6.0 mm x 0.7 mm
3G Features
-
CDMA2000 1x RC1, RC3, EVDO (Rev A)
4G Features
-
Uplink QPSK, 16QAM, 64QAM
-
Critical L+M, L+H Downlink CA Support
5G Features
-
n5, n8, n12, n20, n28, n71
Description
The SKY58081-11 SkyOne
®
Multimode Multiband Tx-Rx Front-
End Module (FEM) supports 2G/3G/4G/5G mobile devices and
operates efficiently in 3G/4G/5G modes. The SKY58081-11 is part
of our Sky5
®
product portfolio. The FEM consists of a low-band
3G/4G/5G PA block, low band and high-band 2G PA blocks, a
silicon controller containing the MIPI
RFFE interface, RF band
switches, antenna switches, a bi-directional coupler, integrated
filters for Bands 8, 12, 20 and 26 and low noise amplifier (LNA).
Extremely low leakage current maximizes device standby time.
The IC die and passive components are mounted on a multi-layer
laminate substrate. The assembly is encapsulated in a 7.6 mm x
6.0 mm x 0.7 mm, 56-pad MCM, SMT plastic package which
allows a highly manufacturable, low cost solution.
The SKY58081-11 FEM is optimized for LTE Advanced which
utilizes Carrier Aggregation for higher data rates. The combined
filtering, RF matching and TRx switching internal to the FEM
optimizes performance for popular Downlink (DL) CA band
combinations in a compact and low cost solution. The FEM
contains the necessary components between the antenna and
RFIC transceiver and is optimized to provide superior Rx
sensitivity and Tx efficiency.
Selecting the linear-GMSK operation standard disables VRAMP
input, so all PA biasing depends only on MIPI mode selection. The
transmitted envelope is then a linear function of RF input.
Selecting VRAMP-enabled operation, the PA controller provides
VRAMP control of the GMSK envelope and reduces sensitivity to
input drive, temperature, power supply, and process variations. A
Collector Voltage Amplitude Controller (COVAC) minimizes output
power variation into mismatch.
In EDGE linear mode, VRAMP v
oltage and MIPI-based bias
settings jointly optimize PA linearity and efficiency.
Exceptional RF coexistence planning and system techniques are
employed to minimize Rx de-sensitizing ("de-sense").

前往需求广场,查看用户热搜
我的内容管理

收起

我的资源

快来上传第一个资源

我的收益

我的积分

登录查看自己的积分

我的C币

登录后查看C币余额

我的收藏

我的下载

下载帮助
资源上传下载、课程学习等过程中有任何疑问或建议,欢迎提出宝贵意见哦~我们会及时处理!
点击此处反馈