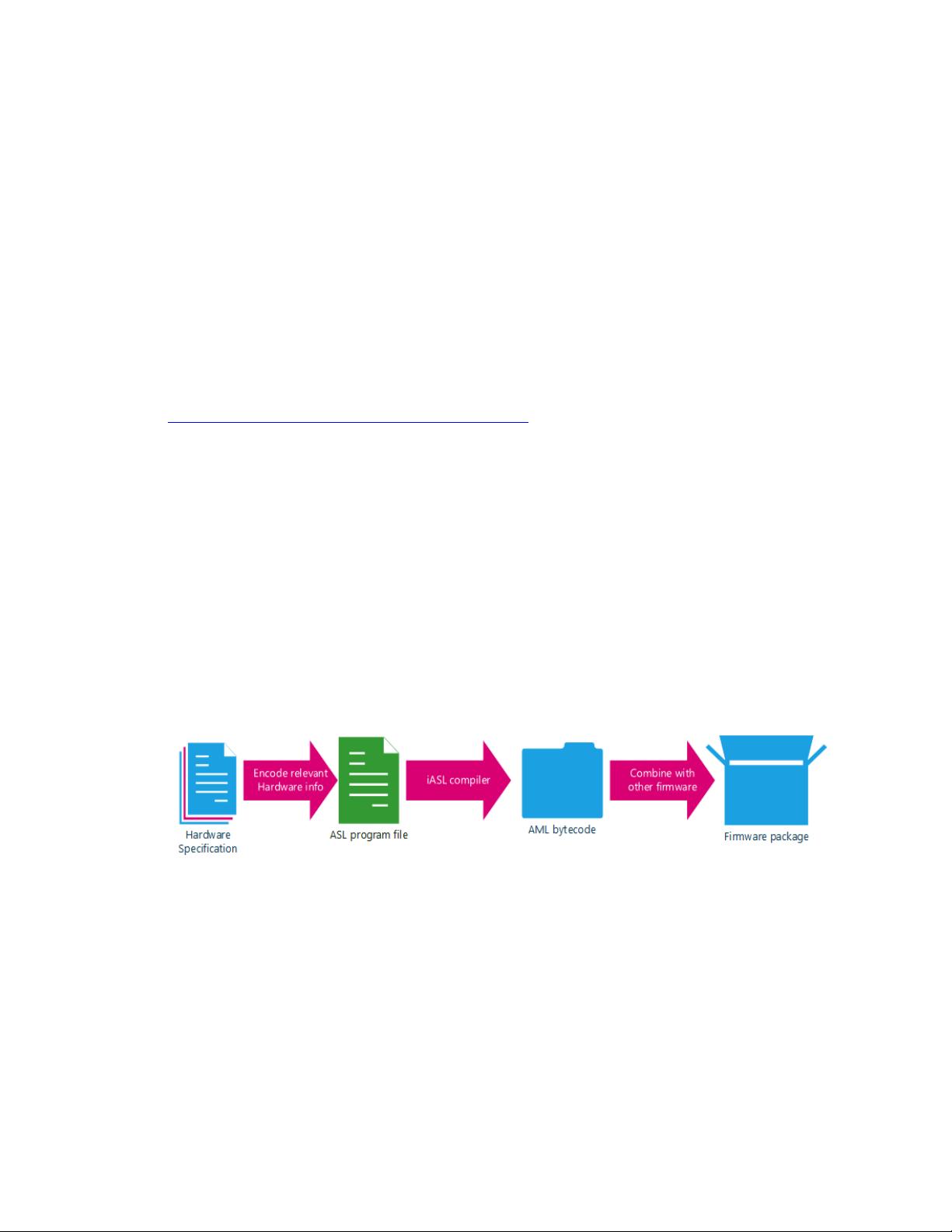 ACPI Source Language (ASL) Tutorial
License
License: This work is licensed under a Creative Commons Attribution 4.0 International
License. Code samples contained in this work are licensed under BSD-3-Clause.
© Intel Corporation
0 Prerequisites
This tutorial assumes that the reader is familiar with ACPI concepts illustrated in the Introduction
to ACPI paper. If not, the reader is highly encouraged to read the paper available here:
https://acpica.org/sites/acpica/files/ACPI-Introduction.pdf
.
1 Overview
1.1 Operating Systems and ACPI
One role of an operating system (OS) is to configure and manage the system's hardware resources.
These resources could include timers, removable devices, and so on. In order to do so, the OS must
be able to correctly find and configure devices and system components.
Some components have a hardware infrastructure so that operating systems can easily enumerate
and configure certain devices. Other devices cannot be enumerated natively, and their configuration
may be dependent on the platform or motherboard. Devices that cannot be enumerated natively can
encode
their platform-specific information in the
Advanced
Configuration
and
Power
Interface
(ACPI) firmware so they can be enumerated by the OS. ACPI firmware helps the OS by providing
information about devices that cannot be enumerated natively.
1.2 ACPI Overview
Generally,
ACPI
development
starts
with
datasheets
that
describe
hardware
components.
Firmware developers translate relevant portions of the hardware specification to a file containing
code written in ACPI source language (ASL). This ASL file is compiled to ACPI machine language
(AML) bytecode. AML is packaged along with other firmware code and stored in the platform's
non-volatile read-only memory.
This tutorial introduces ASL, a programming language with syntax similar to C and also touches
on the basics of other components defined by the ACPI specification.
Once the operating system boots, the AML interpreter starts building the ACPI namespace from
A
ML

tables (DSDT and SSDT) contained inside of the firmware package. The ACPI namespace is
a tree-like data structure that maps variable names to internal objects. When the OS queries the AML
interpreter, the interpreter searches the namespace for the requested variable, evaluates the object
associated with the variable, and returns the result of the computation. This is similar to the act of
loading a program file in an interpreter, like Python, and interactively invoking functions from the

前往需求广场,查看用户热搜
我的内容管理

收起

我的资源

快来上传第一个资源

我的收益

我的积分

登录查看自己的积分

我的C币

登录后查看C币余额

我的收藏

我的下载

下载帮助
资源上传下载、课程学习等过程中有任何疑问或建议,欢迎提出宝贵意见哦~我们会及时处理!
点击此处反馈