官网也没有手册下载路径,这里是从原厂要到的
需积分: 5
15 浏览量
2022-09-29

13:41:21

上传
评论
收藏
2.21MB
PDF
举报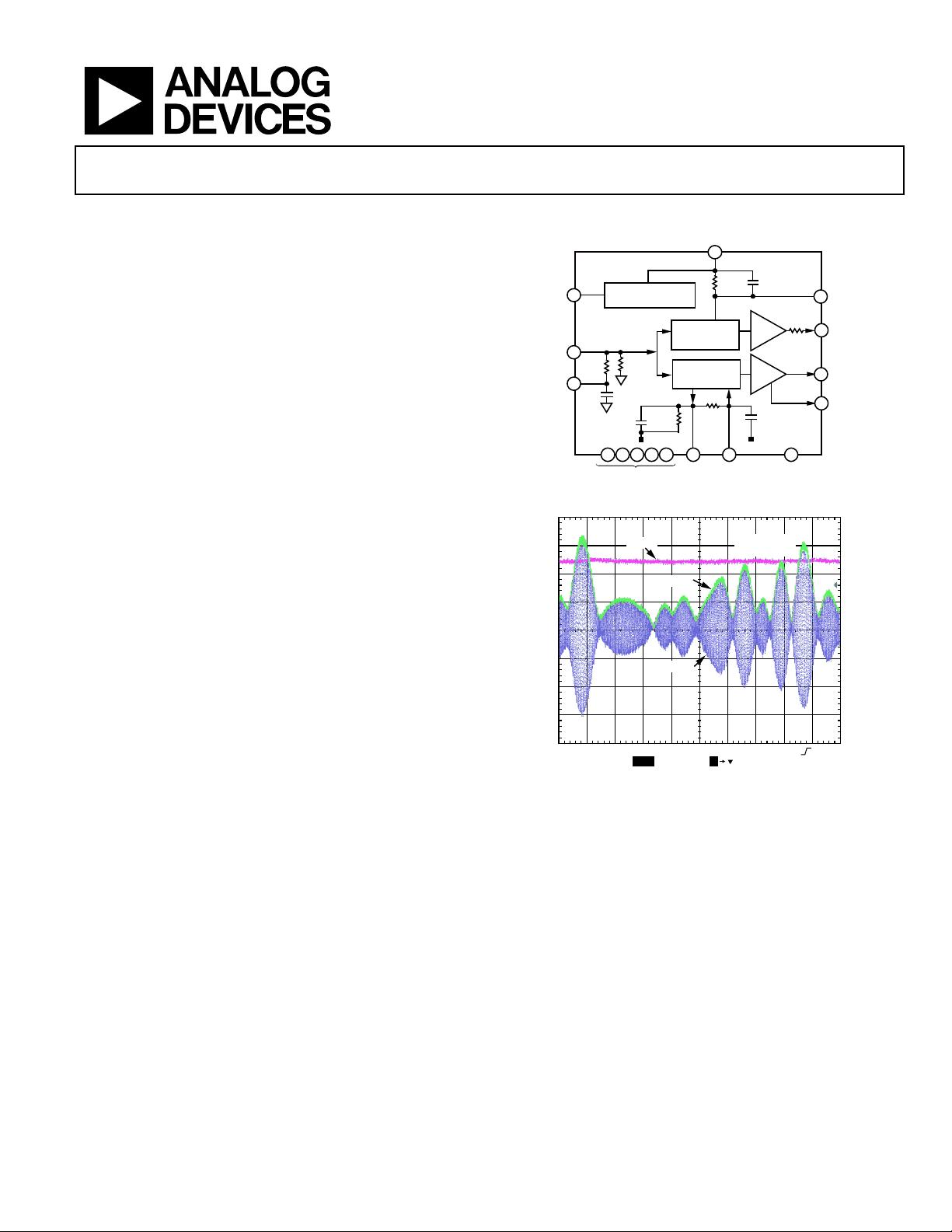 DC to 6 GHz
Envelope and TruPwr RMS Detector
Data Sheet
ADL5511
Information furnished by Analog Devices is believed to be accurate and reliable. However, no
responsibility is assumed by Analog Devices for its use, nor for any infringements of patents or other
rights of third parties that may result from its use. Specifications subject to change without notice. No
license is granted by implication or otherwise under any patent or patent rights of Analog Devices.
Trademarks and registered trademarks are the property of their respective owners.
One Technology Way, P.O. Box 9106, Norwood, MA 02062-9106, U.S.A.
Tel: 781.329.4700
©2011–2018 Analog Devices, Inc. All rights reserved.
Technical Support
www.analog.com
FEATURES
Envelope tracking RF detector with output proportional to
input voltage
Separate TruPwr rms output
No balun or external tuning required
Excellent temperature stability
Input power dynamic range of 47 dB
Input frequency range from dc to 6 GHz
130 MHz envelope bandwidth
Envelope delay: 2 ns
Single-supply operation: 4.75 V to 5.25 V
Supply current: 21.5 mA
Power-down mode: 130 μW
APPLICATIONS
RMS power and envelope detection of W-CDMA, CDMA2000,
LTE, and other complex waveforms
Drain modulation based power amplifier linearization
Power amplifier linearization employing envelope-tracking
methods
FUNCTIONAL BLOCK DIAGRAM
RFIN
ENBL
RMS
20pF
ENVELOPE
VRMS
VENV
EREF
POS
FLT1
FLT2
FLT3
COMM
FLT4
0.8pF
0.4pF
5pF
ADL5511
BIAS AND POWER-
DOWN CONTROL
G = 1.7
G = 1.5
NC
15
14
4
2
3
11
10
9
09602-001
Figure 1.
CH1 200mV

CH2 30.8mV 

M 100ns

A CH4

1.60V
CH3 200mV
CH1 HIGH
20mV
VRMS
VENV
RF INPUT
09602-002
Figure 2. RMS and Envelope Response to a 20 MHz QPSK-Based LTE Carrier
(Test Model E-TM1_1_20MHz)
GENERAL DESCRIPTION
The
ADL5511
is an RF envelope and TruPwr™ rms detector.
The envelope output voltage is presented as a voltage that is
proportional to the envelope of the input signal. The rms
output voltage is independent of the peak-to-average ratio
of the input signal.
The rms output is a linear-in-V/V voltage with a conversion
gain of 1.9 V/V rms at 900 MHz. The envelope output has a
conversion gain of 1.46 V/V at 900 MHz and is referenced to
an internal 1.1 V reference voltage, which is available on the
EREF pin.
The
ADL5511
can operate from dc to 6 GHz on signals with
envelope bandwidths up to 130 MHz.
The extracted envelope can be used for RF power amplifier
(PA) linearization and efficiency enhancements and the rms
output can be used for rms power measurement. The high rms
accuracy and fast envelope response are particularly useful for
envelope detection and power measurement of broadband, high
peak-to-average signals that are used in CDMA2000, W-CDMA,
and LTE systems.
The
ADL5511
operates from −40°C to +85°C and is available in
a 16-lead, 3 mm × 3 mm LFCSP package.

前往需求广场,查看用户热搜
我的内容管理

收起

我的资源

快来上传第一个资源

我的收益

我的积分

登录查看自己的积分

我的C币

登录后查看C币余额

我的收藏

我的下载

下载帮助
资源上传下载、课程学习等过程中有任何疑问或建议,欢迎提出宝贵意见哦~我们会及时处理!
点击此处反馈