高通AR6103 ROCm DataSheet 规格书
版权申诉
16 浏览量
2023-03-02

18:41:40

上传
评论
收藏
2.16MB
PDF
举报
高通AR6103 ROCm DataSheet 规格书: 高通的ar6103是一个完整的,小封装802.11B/G/N Wi-Fi解决方案,经优化适合应用于低功耗,低成本,高度集成的移动和便携式消费电子设备。它以低成本的PCB设计集成了所有Wi-Fi功能并带有友好的软件包,只需要很少的外部旁路电容器以及天线即可。 该ar6103是第三代移动11n设备家族的成员之一,采用世界上最低的功耗的嵌入式架构。 该ar6103可以支持大量的外部蓝牙设备,包括先进的PTA共存的支持。这一灵活的架构使得我们可以根据客户特定的需求和使用情况做出功能定制。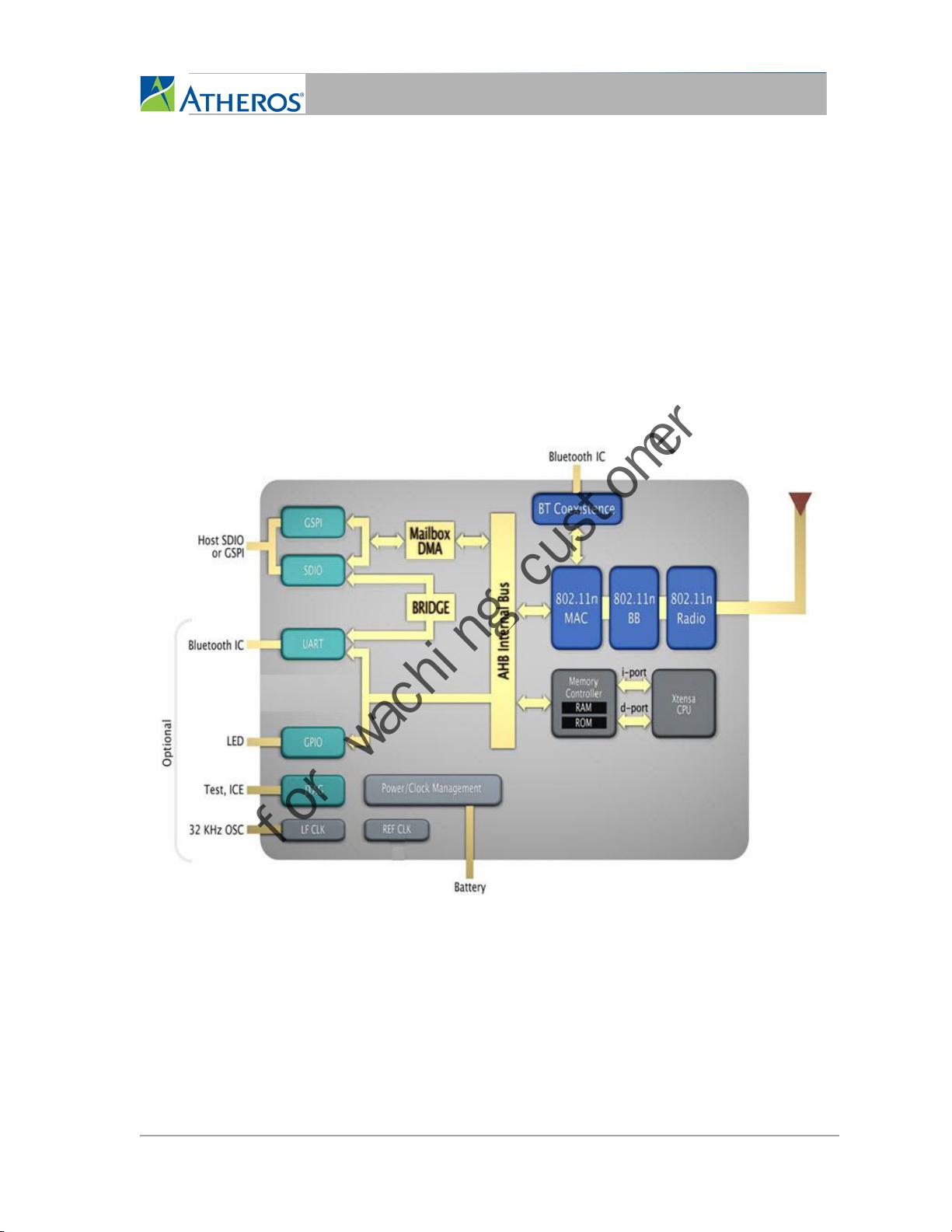 PRELIMINARY: ATHEROS CONFIDENTIAL
•
1
Data Sheet
© 2012 by Atheros Communications, Inc. All rights reserved. Atheros
®
, Atheros Driven
®
, Atheros XR
®
, Driving the Wireless Future
®
, ROCm
®
, Super A/G
®
,
Super G
®
, Total 802.11
®
, and Wake on Wireless
®
are registered by Atheros Communications, Inc. Atheros SST™, Signal-Sustain Technology™, the Air is
Cleaner at 5-GHz™, XSPAN
®
, Wireless Future. Unleashed Now.
®
, and 5-UP™ are trademarks of Atheros Communications, Inc. The Atheros logo is a
registered trademark of Atheros Communications, Inc. All other trademarks are the property of their respective holders. Subject
to change without notice.
November 2012
AR6103 ROCm
TM
Integrated 802.11n
General Description
The AR6103 is a complete, small form factor
802.11 b/g/n Wi-Fi solution optimized for low-
power, low-cost, and highly integrated mobile
and portable consumer electronic devices. The
device integrates all Wi-Fi functionality in a
package friendly to low-cost PCB design,
requiring only a few exte
rnal bypass capacitors
and connection to an antenna.
The AR6103 is part of the 3rd generation
ROCm™ family
of mobile 11n devices,
employing the world's lowest power
consumption embedded architecture.
The AR6103 can support numerous external
Bl
uetooth devices, and includes advanced PTA
coexistence support. A flexible architecture
enables optional customization to meet
customer specific prof
iles and use cases.
On-chip high-efficiency high-output EPA™
pow
er amplifier with zero calibration,
integrated LNAs, integrated receive and
transmit RF matching
circuits, integrated
reference crystal, and integrated T/R switch
eliminate the need for external RF components
and enable direct antenna connection.
Ultra low power consumption radio
ar
chitecture and proprietary power save
technologies extend battery life. On-chip high-
efficiency PMU (power management unit)
enables direct-connect to battery, eliminating
the need for external regulators. An on-chip
embedded CPU handles complete 11n
processing to minimize host processor loading.
我的内容管理

收起

我的资源

快来上传第一个资源

我的收益

我的积分

登录查看自己的积分

我的C币

登录后查看C币余额

我的收藏

我的下载

下载帮助

前往需求广场,查看用户热搜
资源上传下载、课程学习等过程中有任何疑问或建议,欢迎提出宝贵意见哦~我们会及时处理!
点击此处反馈